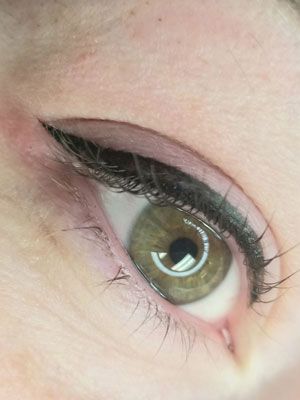 Streamline your morning routine!
Applying eyeliner every morning can be daunting for anyone but especially older women, athletes, career women, and busy moms. Shaky hands, poor eyesight, time constraints and interruptions make it hard. Permanent Eyeliner is a perfect alternative! Put those make up glasses away, hit snooze one more time and say hello to more time!
And, how about saying goodbye? Goodbye to smudged eyeliner!
Anyone who has worn eyeliner knows even some of the best formulas smudge and smear. But, Permanent Eyeliner maintains a smudge proof finish 24/7. No more looking in the car mirror, seeing a smudged mess and wondering, "How long have I looked like this and why didn't somebody say something?" You don't have to worry about it coming off - even in water. Get the peace of mind you have always wanted with the bonus of an application that will look like you have your very own professional make-up artist on staff! Subtle or striking, thick or thin, wings or no wings, classic black, deep browns, blues, greens, you name it - there are many options to create your perfect look. The possibility for artistic expression is virtually endless!
Combining skillful precision with artistry, our Master Permanent Makeup Artist creates a look perfectly enhancing your most prominent facial feature. Whether you prefer a more natural appearance or desire a more dramatic flair, Deena will apply permanent eyeliner to beautifully amplify your eyes!
After many years, and hundreds of happy clients, we're proficient in the following styles:
Eyelash-Enhancement Liner — Placed inside the lash line, this delicate, tapered liner creates the illusion of thicker lashes.
Classic Eyeliner — Customized to your wishes, permanent liner can be applied in a variety of custom shapes and thicknesses, boosting and brightening your eyes.
Winged Eyeliner — Giving the appearance of a lifted lid, winged eyeliner gives you that popular cat eye desired by many women.
Shaded Eyeliner — Lending a soft and powdery effect to the upper lid, stardust liner is applied with various shading techniques and features multiple layers of colored ink to create an eyeliner/shadow combination.
Only mildly uncomfortable and surprisingly affordable, permanent eyeliner provides both men and women of all ages a safe and reliable alternative to daily makeup. In just 1 application you will enjoy results lasting at least one full year!
Discover the possibilities by scheduling a personal aesthetic consultation now. We promise personalized service with a smile that brings a smile. At Deena Cosmetics, our mission is to enhance your natural beauty!
More Questions About This Service?
Please see our FAQ section, send us an email, or give us a call. We look forward to answering any questions you have and are happy to book a free consultation!
Prices Available Upon Request
Shaded Eyeliner (top & bottom), Eyeliner (top & bottom), Thick Eyeliner (top & bottom), Winged Eyeliner (top & bottom), Eyelash Enhancement (thin top & bottom), Upper Eyeliner, Winged Upper Eyeliner, Thick Winged Upper Eyeliner, Upper Eyelash Enhancement, Lower Eyelash Enhancement, and Lower Eyeliner