Many people can benefit from our precise and realistic eyebrow techniques including cancer survivors, alopecia sufferers and people with thyroid disease. Some people have inadvertently damaged follicles in the eyebrow area through vigorous hair removal during their youth. And as we age, eyebrow hair becomes thinner which can contribute to an aged look we may wish to alter.
Optimizing the shape and volume of any brow, Permanent Eyebrow Makeup allows you to easily transform your upper eye area. Correctly shaped eyebrows can even give the illusion of a more youthful appearance. Designed to add color and definition, micro-pigmentation treatments enhance your facial features naturally and beautifully.
Backed by years of experience and an extensive education in Permanent Makeup, we are able to artfully create an individualized look that suits your needs.
Imagine starting each day without the hassle of daily makeup application. No more makeup glasses, no more smudges, no more frustration. Just natural, beautiful, perfectly shaped brows!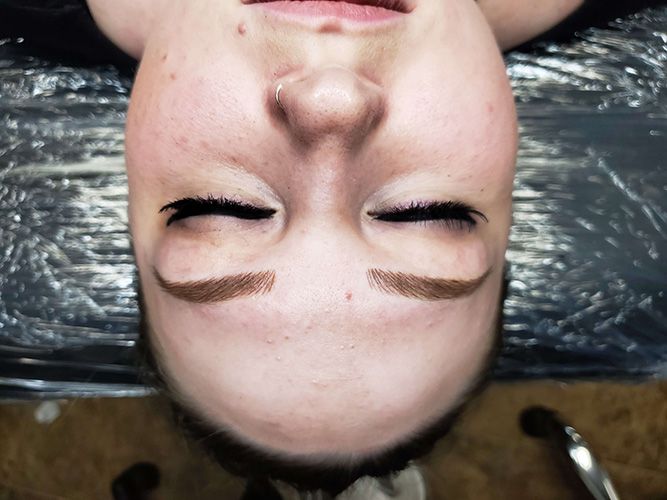 We are experts in:
Shaded Eyebrows — Producing a soft, natural shade, the application of powder allows us to amplify your natural shape and correct common brow issues such as asymmetry and over-plucking. This technique produces a soft natural shade.
Natural (Hair Stroke) Eyebrows — This technique can be performed by a Permanent Makeup machine or microblade. Mimicking individual hairs, delicate lines create natural-looking brows by filling in sparse areas and creating a dramatic arch when preferred. Our techniques produce crisp, long lasting results without common side effects, such as scarring. Each stroke is carefully designed to produce the natural flow of eyebrow hair.
Hybrid (Combo) Eyebrows — Combining both Natural Hair Stroke and Powder techniques, your artist can create an incredibly natural and defined brow. Minimal shading between strokes is added for a softer appearance and maximum shading is added to create a more dramatic result.
About Deena's Methods
Traveling to various parts of the globe, Deena has apprenticed under some of the very best and elite artists in the world. Her studies include makeup application, eyebrow shaping, and eyebrow design. After nearly 2 decades of extended education and practice, Deena has reached her goal of producing exceptionally realistic eyebrows. Applying her background in makeup artistry and esthetics she has developed a safe, long lasting, customized result for eyebrow services.
Far superior to microblading, the method used for Permanent Eyebrow Makeup at Deena Cosmetics, includes a combination of nano strokes and shading. Deena applies the nano strokes by machine and uses a single needle to create precise hair strokes and soft shading to fill out the brows and give them dimension. This technique allows her to restore your brows making them look better than ever.
This hybrid technique is ideal for anyone wanting to enhance the appearance of his or her eyebrows. It gives natural looking, hairlike strokes, regardless of the amount of hair present.
Some clients suffer from visual impairments, neurological disorders, alopecia, cancer, trichotillomania, or other conditions causing hair loss. Deena tailors her solution to the skin, age, ethnicity, and desired outcome of each client.
Using pigments matching your original eyebrow color and considering the undertones of the skin, Deena is able to blend her work into the existing brow area. The result is natural, flawless, fuller looking eyebrows.
Discover the possibilities of high-quality permanent makeup by scheduling your personal beauty consultation now. We promise unparalleled safety and comfort as well as stunning, long-lasting results.
More Questions About This Service?
Please see our FAQ section, send us an email, or give us a call. We look forward to answering any questions you have and are happy to book a free consultation!
Price Available Upon Request
Shaded Eyebrows Ombre, Nano Hybrid Brows ( combo of hair strokes & target shading), Luxe Powder Brows, and Feather Nano Brow (micro blade effect)