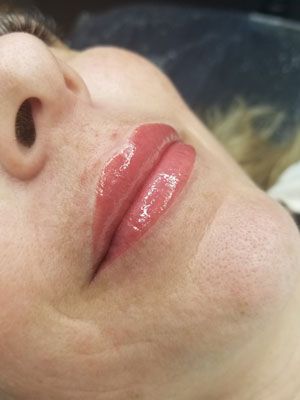 You can now go up to 2 years without applying lipstick!
In our youth our lips are soft, full, and have a beautiful natural tone. As the aging process begins, we start to lose shape, contour, fullness, and color.
To combat the changes we see in our lips we may choose to use lip fillers, lip liners, lipsticks, and lip glosses. All of these are reasonable options but have you ever felt frustrated when your lip color transferred onto your clothing? Do you ever get tired of reapplying color throughout the day after you eat and drink? How about the woes of a windy day when your hair is blown into your face and sticks in your lip gloss?
Designed to create the illusion of fuller, more defined lips, Permanent Lip Makeup allows you to enjoy the youthful glow of lipstick without the mess, waxy feel, or daily hassle!
At Deena Cosmetics, we can use Permanent Lipstick to enhance your current lip shape, current lip color, adjust your natural lip shade, reshape your lips, and even increase visual size. Using advanced techniques, we will help you create a more harmonious and balanced face.
Permanent shading is perfect for those with medical or physical conditions, those with uneven lips, those who have lost shape in their lips, as well as those whose lips have naturally faded with time.
Together we will map out a plan to enhance your lips selecting a permanent lip color from a range of beautiful pigments for a gorgeous, natural, soft, tailored look.
Restore the appearance of your mouth with:
Lip Blush — Permanent Lip Blush with a delicate color wash that leaves no harsh lines or borders. Our experts will help you choose a flattering color that works with your skin tone and natural appearance. If you're worried about permanent coloring appearing too harsh or dramatic, lip blush is the right choice for you.
Velvet Lips — Deeper and more solidly applied than blush, watercolor makeup fully saturates the lips with vibrant color. We take the time to add tones, shades and lines that mimic your natural appearance while amplifying lip volume and shape.
Water Color Lip Blush — This water color fill technique creates a very gentle and natural look because the tattoo is produced without a defined outline or the creation of a harsh looking center; the pigment shade softly and elegantly enhances the natural lip color.
Restore the shape and beauty of your lips by scheduling your personal beauty consultation with Deena today. In just one session, you'll be able to enjoy all the benefits that only permanent makeup can deliver.
Permanent Lipstick verses Lip Filler
Permanent Makeup goes on the skin. Lip fillers are injections into the skin.
Both treatments are semi-permanent, but the tattoo last twice as long. With Permanent Makeup we can also give the appearance of fuller lips. In this way, a cosmetic lip tattoo can replace lip fillers completely. However, we do not need to think of them as as alternatives. Permanent Lipstick can enhance lips that have been filled out with lip injections. You may consider both if fuller- more beautiful lips are your objective.
P.S. There's an amazing bonus benefit with Permanent Lipstick!
Our bodies produce collagen when tattooed, making your lips appear fuller!
More Questions About This Service?
Please see our FAQ section, send us an email, or give us a call. We look forward to answering any questions you have and are happy to book a free consultation!
Price Available Upon Request
Lip Blush, Velvet Lips, & Dark Lips Neutralization